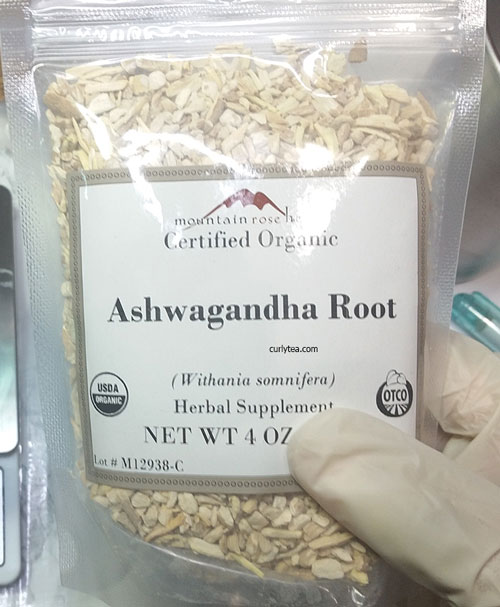 Ashwagandha Root
Botanical name: Withania somnifera
Other names: Ashvagandha, Indian ginseng, Winter Cherry, Amangura, Amukkirag, Asgand
Ashwagandha root has been used medicinally for a very long time. It's known as an "adaptogen". It's supposed to help the body cope with stress, improve thinking, help with hormonal imbalances and help generally with overall health.
Native to India, it's one of those major herbs used in Ayurveda. Some naturals apply the powdered herb to the hair, as part of a hair paste/mask, to help with strength and shine.
Supposedly, it's used to help fight against the early graying of hair by "inhibiting the loss of melanin in hair" (1). Ashwagandha has also popped up as a possible treatment for postpartum hair shedding.
It can be used internally and externally to help with hormone balance and hair strength. Not sure if it can reverse damage and hair loss though. Internally, it's said to best be taken in a powder or tincture (extract) form. Externally, applying the powder in the form of a paste is good.
I've used Ashwaganda as part of a quartet of herbs which I then used to make a hair gel. Add hot water and allow it to sit, or you can add the root to boiling water, wait about 5 minutes and remove it from heat.
If you want, you can try to infuse your favorite oil with Ashwagandha root, which would last much longer than a regular tea.
I ordered Ashwagandha from mountainroseherbs.com, so check it out. Be prepared to wait a few days before they ship your order, though. They have the root, the root powder, and the extract forms. The extract may be even more convenient for you and you can buy the extract from a number of different sources (try vitacost.com).
Related
(1) NaturallyCurly