Lemon Balm Shea & Cupuacu Whipped Hair Cream and Hair Lotion

I made another Shea butter and Cupuacu butter based hair whip! 🙂 This one includes a water based herbal infusion (tea) of Lemon Balm, along with other great butters and oils.
This is recipe #5 for a whipped butter because I'm always slightly changing it to try new things. It's soft and melts immediately on contact, which is what I intended it to do.
Here's a list of the ingredients
Butters
Cupuacu Butter (natural butter – high moisturizing ability; emollient; helps restore elasticity; excellent sealer; ability to absorb water; phytosterols)
Unrefined Shea Butter (natural butter – instant softness to skin and hair when using high quality shea)
Hemp Seed Butter (hydrogenated butter+Hemp seed oil; quick absorption; tocopherols)
Brazil Nut Butter (hydrogenated butter + Brazil nut oil; super soft; naturally rich in Vitamins A,B,C and E; phytosterols)
Oils
Fractionated Coconut Oil (Caprylic Capric Triglycerides; improves feel and spreadability of whips)
Macadamia Nut oil (great, light oil high in oleic fatty acid; closely resembles sebum)
Castor oil (great, thick oil which promotes stronger hair)
Other
BTMS (emulsifier – used to bind the tea and the oils/butters)
Structure XL (used to ensure emulsion stays together over time)
Neodefend (preservative)
I use aluminum bowls for this process because it transfers heat quickly so butters melt quickly without really having to put them over heat for an extended period of time.
Butters begin to melt in less than 1 minute so keep a watch on them.
Now when I make stuff, I measure it using a common kitchen/digital scale so I'll know how to recreate if necessary.
Here's version #5:
PHASE A
Lemon balm tea
Neodefend (dissolved into the tea)
1/2 tsp Structure XL
wispy amount of Guar gum
PHASE B
BTMS
Fractionated Coconut oil
Castor oil
PHASE C (cool down)
Cupuacu butter (melted)
Hemp Seed butter (melted)
Shea Butter (melted)
Brazil nut butter
Macadamia
fragrance and or essential oils
I love the feel of moisturized, oiled hair, so I have no problem with using heavy butters like Shea. Lemon Balm is used to mostly help with shine, but you can use green tea, black tea, Burdock root tea, Nettle tea, etc. Take you pick!
Conclusions:
I will add a bit more Guar gum and Lemon Balm infusion to it during the WATER phase just to add a bit more slip to it.
Be careful not to be too heavy handed with this. Its chock full of great butters and oils, and since it's lighter in consistency than regular whipped shea  with a lower percentage of oils, it may be easier to be heavy handed with it.
1st half looks like this:
This thickened a bit once it cooled completely.
TIP: Cool butters QUICKLY to prevent crystalization and lower the chances of grittiness.  Grittiness does not affect the way a butter performs. I sit my melted butters in the freezer in 7 minute intervals in an aluminum bowl between mixing,
For this recipe, I split it in two (4oz, 4oz).
To the 2nd half, I added:
2 TBSP more Lemon Balm tea
2 TBSP more Camellia oil
1 TBSP Glycerin
1 TBSP water+Guar gum gel
This makes the 2nd half into a hair lotion as far as consistency is concerned.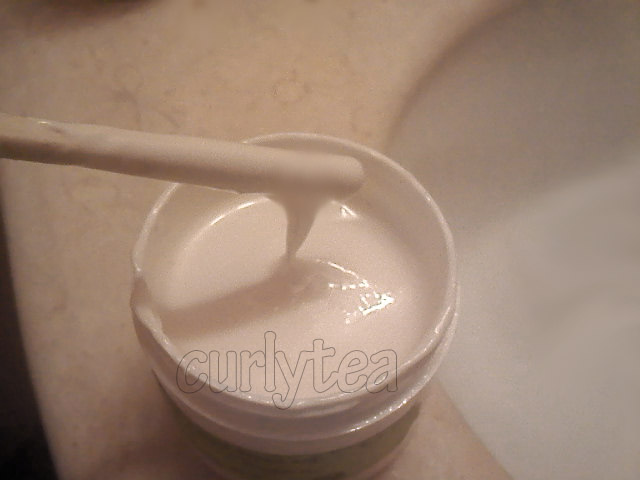 (In this photo, I have it in a jar. I later transferred it to a small squirt bottle for easier application.
Its lighter and creamier than even the whip you just made. Hair lotions, imo, are easier to apply. So I now have approx 4 oz nice whip that's not super thick, and 4oz hair lotion moisturizer containing shea butter, Castor oil, Squalane, and a humectant (glycerin) etc.
1st half: Because this has very little water/tea, you will want to apply this to hair when its wet or lightly spritz it before using. This formulation has no glycerin in it, although you can add glycerin if you like.
2nd half: Again, it will be easy to over apply it because it's so light. Apply it like you would a straight oil and you should be fine.
These are my chosen oils and butters. Find what your hair likes and use it. For your concoctions, you may want to use more Brazil nut butter, or all shea butter, or no castor oil, or whatever. Experiment, people!
What's your fav whipped butter recipe? Please share!