CETAC – Cetrimonium Chloride (CETAC 30%)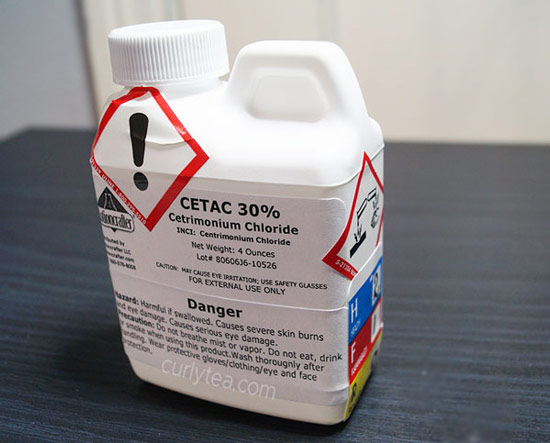 CETAC – Cetrimonium Chloride (CETAC 30%)

INCI: Cetrimonium Chloride
Shelf life: 2 years
Usage rate:
Recommended Supplier Rinse off: 0.25 – 10% (NO WAY would I use this at 10%!!)
Recommended Supplier Leave-in: 0.25%
Cetrimonium Chloride is definitely not a natural product, but it's one of the most widely used and effective conditioners around. If you've used old-school commercial conditioners before, chances are this was one of the ingredients. It's used to fight frizz (reduced static electricity) and improve the manageability of the hair.
You're more likely to get a product that has a certain percentage of the active ingredient in it. The one at lotioncrafter.com is a 29-30% active solution of cetyl trimethyl ammonium chloride, the ingredient that gives CETAC it's conditioning nature.
I'm certainly not telling you to buy CETAC, but I wanted to check it out to see what, if anything, could be gained by using it.  It certainly is not at the top of any of my recommendations for conditioners.  There are just much better, less irritating options (like BTMS-50 and Varisoft).
CETAC also has antibacterial properties and is know as a "topical antiseptic and a preservative". That doesn't mean you can substitute CETAC for a real, broad-spectrum preservative though!
Because Cetrimonium Chloride can be irritating at higher percentages, if you want to use this in leave-in conditioners, it's recommended that you use no more than 0.25%.
That means for a 227 gram (8 ounce) leave-in conditioner, use no more than 0.57 grams of CETAC. That's a very small amount, but that's the recommendation for products you won't be rinsing out of your hair.
I'm not recommending this for you, but I think I'm going to try this at 0.25%  in an 8 ounce leave-in conditioner just to see if this works well and what, if any, irritation there may be. I'm not going to go higher than that for a leave-in conditioner.
I wouldn't do this at all if Cetrimonium Chloride wasn't in dang near every traditional store-bought leave-in conditioner I've tried.
Since the product is liquid, use a dropper to measure out the CETAC. Trying to pour it could cause you to add too much accidentally.
For RINSE OFF conditioners, the sweet-spot recommendation is 2%. That means for a 227 gram (8 ounce) rinse-off conditioner, use no more than 4.5 grams of CETAC.  But IT IS NOT RECOMMENDED to allow this to stay on your hair for an extended period of time.
NOTE
Just a few products with Cetrimonium Chloride as an ingredient
Made Beautiful True Nourishing Leave In Conditioner
ApHogee Pro Vitamin Leave In Conditioner
Neutrogena Triple Moisture Silk Touch Leave-In Conditioner
Carol's Daughter Black Vanilla 4 in 1 Combing Creme
Carol's Daughter Hair Milk Refresher Spray
EDEN BodyWorks Coconut Shea All Natural Leave In Conditioner
Eden BodyWorks Coconut Shea Medium Hold Natural Curl Defining Creme
Silk Elements Jojoba Oil Leave In Conditioning Spray
Mystic Divine Hydrating Leave In Conditioner
Rusk Smoother Passionflower & Aloe Smoothing Conditioner
Related
CETAC 30%, Cetrimonium Chloride