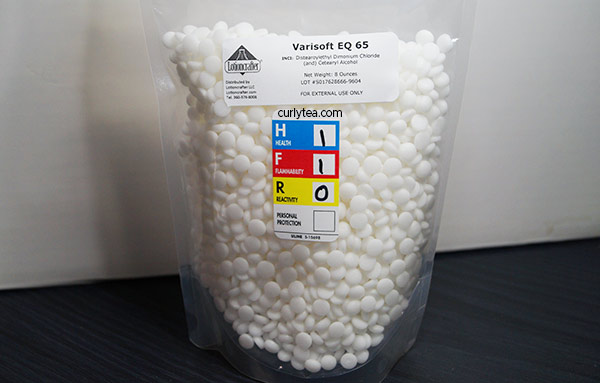 Varisoft EQ 65
INCI: Distearoylethyl Dimonium Chloride (and) Cetearyl Alcohol
Usage rate: 1-10%
Shelf life: 12 months stored properly
WHY USE THIS?
Skin: Quicker absorption with a dry, powdery after-feel that's not greasy
Hair: Superior detangling and softening ability
Varisoft EQ 65 is an ECOCert and COSMOS approved non-ionic conditioning emulsifier for use in haircare and skincare products. Varisoft, an ester quat, can be used to make 'green' product formulations. Use it to make leave-in conditioners, rinse-off conditioners, hair masks, skin lotions, moisturizers and creams.
Become A Member
Join the community to gain access to all of the formulas and recipes!
According to the online info, 2% Varisoft increases "bounce, dry and wet feel along with dry and wet combing compared to 2% centrimonium chloride." That means detangling the hair with Varisoft may provide a better experience than detangling with Centrimonium Chloride (CETAC).
I can't speak for the comparison to Centrimonium Chloride yet, but Varisoft definitely has superior detangling properties. I made a simple cream with Varisoft — it can be used for hair and skin — and the product made my hair noticeably softer and improved finger- and comb-detangling.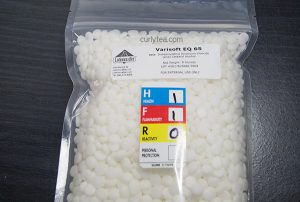 Varisoft EQ 65 weighs the hair down a little less than my current favorite conditioning emulsifier, BTMS-50. However, I like the tiny amount of "weight" on my curls offered with BTMS. Varisoft is very light. Because of that, thick curls can feel soft but not hydrated enough.
Varisoft makes hair smooth and doesn't leave a greasy after-feel. It still leaves a powdery after-feeling you're used to with other cationic conditioning ingredients like BTMS.
Formulating
The final pH of your product MUST be between 4 and 5. If the pH is higher than 5, the Varisoft could hydrolyze. (I take it that that's a bad thing). So you will need some way to check the pH if you're using this conditioner. Or, just make sure some sort of citric acid solution (citric acid + water) is part of your COOL DOWN phase.
Use Varisoft EQ with other fatty alcohols (cetyl, behenyl,etc) as well as non-ionic emulsifiers like Olivem 1000 to increase viscosity.
Here are the recommendations for how much to add:
To thicken the mix, add 0.5% fatty alcohol for every 1% Varisoft you use.
To improve processing of Varisoft pellets and further stabilize a conditioner, add 1%-3% Olivem 800. As mentioned earlier, I added 3% Olivem 1000 to make a non-runny light conditioning cream.
If you have a "small" oil phase in your formulations, use Varisoft in a one-jar method where all the heat stable ingredients can be added together and heated. However, I don't see any definition of what they mean by a "small" oil phase. Is "small" 2%? 5%? 10%?? I don't know. Since this isn't defined, I would suggest heating the oil and water phases separately.
Related
https://www.lotioncrafter.com/varisoft-eq-65.html
https://www.formulatorsampleshop.com/VARISOFT-EQ-65-Pellets-p/fssd22022.htm