Olive Squalane, A Better Alternative to Squalene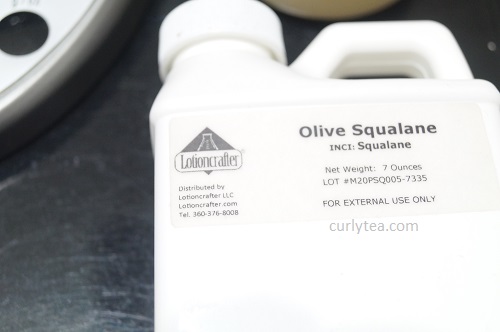 Olive Squalane
INCI: Squalane (Olive)
Olive Squalane is often used to increase the skin's regenerative effects. It's a clear light liquid made from olives which is said to mirror "human lipids in molecular structure and weight" (ingredientstodiefor.com).
I would characterize it as an emollient. It is said to make your products feel silkier on the skin and hair even at a low percentages. Though curlytea.com cannot confirm this, it is thought to help your skin retain some of it's natural oils and offers relief for very dry skin.
Olive Squalane came along as a replacement for much less eco-friendly "squalene".
TIP: If you have problems using vegetable oil on your face, why not try using Olive Squalane as your emollient? Make a very small batch (maybe 2 ounces) so you won't have to use so much Olive Squalane. If you try this, use another emulsifier besides BTMS.
You can use squalane up to 100%. Thus, you can use Olive Squalane (which is kinda expensive) as your only oil-based ingredient. However, I use it to add an increased level of smoothness to other vegetable oils.
Become A Member
Join the community to get access to all of the formulas and recipes now!
It's odorless and colorless as well, so you don't have to worry about it adding any unwanted color or loud smells to your products. Try making squalane one of the main ingredients in treatment oils and something meant to improve the quality of hair or skin over time.
From my experience, I haven't had any problems trying to emulsify squalane. It doesn't affect the pH of your final mix either from my experience.
The squalane I'm using is from Lotioncrafter.com. However, ingredientstodiefor.com also sells it. You can also get the Life-Flo brand at vitacost.com (lthough it seems more expensive than it should be).
Check out these recipes where squalane is an ingredient:
Aloe Vera Curl Pudding
Soft Hempseed and Shea Pomade
Hair and Body Oil w/ Avocado and Jojoba

Related
ingredientstodiefor.com – Olive_Squalane
lotioncrafter.com
Vitacost.com