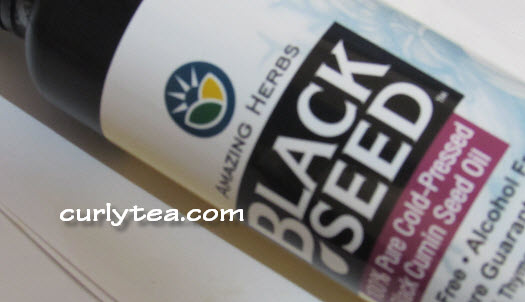 INCI: Nigella sativa
Other names: Kezah, Kalonji, Black Caraway
Black Seed oil, or Black Cumin oil, is known as a powerhouse oil among oils which is high in fatty acids, vitamins and minerals.  It was once said many, many years ago that it can "cure" anything but death. An exaggeration to be sure, but Black Seed oil has outstanding properties assuming you're not allergic to it.

Black seed oil is very high in Linoleic (55%) acid which works to help prevent breakage and improve elasticity of hair.  It also contains Oleic, Palmitic, and Stearic acids  Linoleic acid is said to support the health of the hair cuticle and to help the hair follicles.
The Black Seed oil sold by MountainRoseHerbs has a pH of approx. 4, which makes it a good addition to conditioners (depending on the other ingredients of course.)
Hair loss is another problem some people use Black Seed oil to treat, although there doesn't appear to be a sufficient number of studies to back this up.
Black Seed has anti-inflammatory, antiviral, analgesic and antibacterial properties as well, so it make help to increase the lifespan of other oils you use it with inside your DIY products.
What many people also use Black Seed for is to treat everything from acne and high blood pressure, to sinusitis and flu, to skin fungus and scalp problems.
To be safe, I tend to use Black Seed oil during the COOL DOWN phase of the DIY haircare creation process.  That just means I add it AFTER the mix has cooled significantly.  Mix your fragrance oil or essential oil with Black Seed oil, and add it to your mix after it has cooled.
TIP: When using Kukui Nut oil and Tamanu oil, add them during the COOL DOWN phase as well.
Black Seed oil is sometimes diluted with another carrier oil to decrease the possibility of any side effects for people who are super-sensitive to organic (herbal) materials.
Black Seed is a nice addition to oil mixes and DIY recipes to give them an extra pop of goodness.   Try adding Black Seed, Tamanu, Argan and Macadamia nut oils together for a great hair and scalp treat.
As with ANYTHING, always make sure you're not allergic by applying a very small amount  on your skin somewhere and waiting until the next day to make sure there is no reaction.  ALSO, make sure you research and looking for the "Precautions" of taking Black Seed internally.
Related
https://www.mountainroseherbs.com/products/seed/profile
http://www.tojilife.com/linoleic-acid
http://undergroundhealthreporter.com/black-cumin-seed-oil/#axzz39q78SNB3