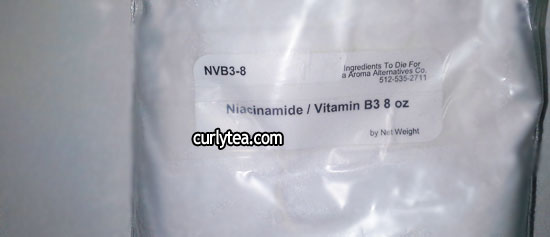 Niacinamide is the active form of B3 which helps to improve moisture, increase ceramide levels, and improve the elasticity and tone of the skin.
According to online sources, it is very effective because it improves the collagen structure in the skin, which helps to keep it firm.  Because of these benefits, its highly recommended for mature and pre-maturely aging skin.
Any skin type, though, could benefit from using Niacinamide (B3) regardless of age.  It also helps acne prone skin, loose or sagging skin and sun-damaged skin.
In addition, you may also find Niacinamide in products designed to treat dry, rough, patchy skin.
The Niacinamide from ingredientstodiefor.com comes in powder form which is easy to work with.  You add it to the water phase of your mixes.  And it has a 4 year shelf life when stored and handled correctly.
There are also some helpful guidelines which tell you how much to use.  For example, if you're looking to improve collagen, use it at 2%.   Here's what ingredientstodiefor.com recommends:
Use at 2% for collagen synthesis
Use at 4% to make oily, acne prone skin treatment
Use at 5% to make a treatment to help with uneven skin tone and improve texture
To prevent Niacinamide from changing, please make sure your final product has a pH of between 3-7, according to ingredientstodiefor.com.   At theherbarie.com, they recommend a final pH between 5-7.  Use the guidelines at the site from which you purchased the product.
These guidelines are VERY important.  If you do not adhere to these guidelines, it will turn the Niacinamide into nicotinic acid which could cause redness, burning and skin flushing.
You will find it in products made by Olay and in the famous CeraVe PM Facial Moisturizing Lotion:
http://www.drugstore.com/cerave-facial-moisturizing-lotion-pm/qxp233353?catid=182952
Related
http://ingredientstodiefor.com/item/Niacinamide_Vitamin_B3/635
Vitamin B3, Niacinamide USP
http://www.theherbarie.com/Niacinamide-USP-Vitamin-B3.html