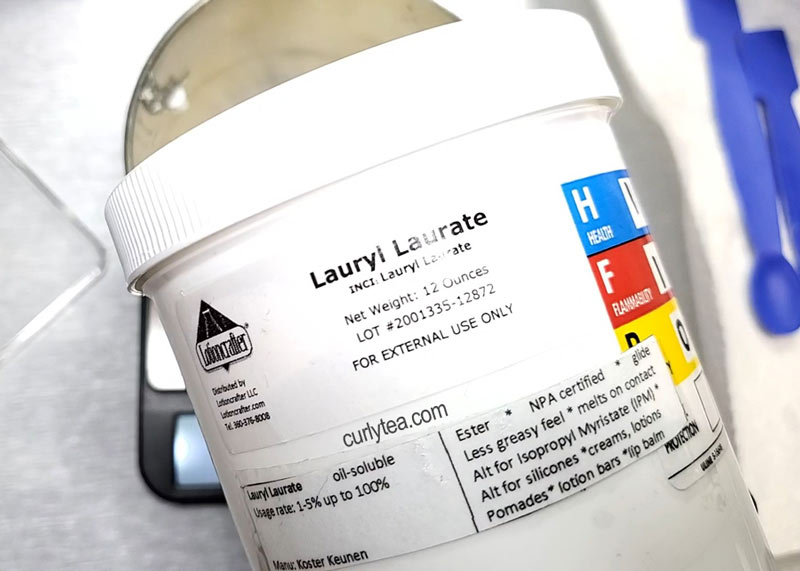 Lauryl Laurate
INCI: Lauryl laurate
What: emollient; film former; silicone replacement
Solubility: oil soluble
Usage rate suggestions: typical 1-5%; up to 40%
Lauryl Laurate is an ester of lauryl alcohol and lauric acid (1) used to improve slip and glide in some formulas. It melts on contact and leaves a non-greasy after feel on the skin. Many formulators use it to cut down on the greasy feeling of other oils and butters used in their formulas.
The low molecular weight ester is supposed to be a nice alternative to Isopropyl Myristate (IPM) and can give an instant glide to lipstick and anhydrous formulas. If you want a similar effect of fast absorbing silicones without using -cones, you may want to give this a try.
It can be used in many different formulas for everything from lip balms, to lotion bars to mascara. It doesn't have a lot of incompatibilities as it can be used with natural vegetable oils as well as petro-based petrolatum and mineral oil.
The Lauryl Laurate I purchased from lotioncrafter.com is NPA certified and vegan compliant if that's important to the type of products you're trying to create.
I used this ingredient at 2% in the Marshmallow Root Ayurvedic Shea Cream formula. I didn't notice any type of draggy, heavy or greasy feel on the skin as I was applying it to my hair even though the formula is about 10% shea butter. Other ingredients may be contributing to that after-feel, but I'm sure the Lauryl Laurate is playing it's part.
The EWG score of Lauryl Laurate is 1 and has been "determined safe for use in cosmetics, subject to concentration or use limitations" according to EWG.(1)
It's made from coconut and RSPO sustainable palm. Long story short, if you're looking to improve the glide of a lip stick or increase the slip of a face cream, you may want to incorporate Lauryl Laurate into your formula and check if it improves the feel.
Another great application for this ingredient may be in cleansing balms! Think of the slip it may provide for the oils. If it reduces the greasy feel, it may also help improve rinse off. Just my theory (for now).
Here's a short list of the many products that contain some form of this ingredient:
PureBeauty Naturals Biotin Conditioner
Vita-Pro Volumizing Conditioner
Socozy Kids Boing Curl Conditioner
Serum of Sicily Hair Treatment oil
Drunk Elephant Makeup Melting Butter Cleanser
Related
1 EWG – Lauryl Laurate
2 lotioncrafter.com/products/lauryl-laurate