VegeMoist (ECOCERT approved)

Ingredient wish list: VegeMoist (ECOCERT approved)
INCI: Glycine Betaine (Beta vulgaris (Beet)) Sugar Extract


VegeMoist is our replacement for HydraNew, offering superior moisture improvement.
VegeMoist is a food grade moisturizer, and anti-irritant, naturally, derived from a renewable source of Beet Sugar. Being a betaine, and one of the four classes of osmolytes, it acts to maintain intracellular water levels, preventing damage due to environmental stressors such as UV radiation, and oxidation.
This important function allows the cells to function more efficiently, preventing damage, and the dehydration, responsible for the look of parched, sallow, and discolored skin.
Unlike traditional humectants, which draw moisture from the environment, VegeMoist adds hydration directly, through it's abundant source of sacharides, making it a suitable choice for any climate or environment. With it's cellular hydrating activity VegeMoist is the perfect choice for any formulas designed to improve skin function, especially anti-aging skin care and super moisturizing body care.
Skin becomes dry for two reasons – prolonged exposure to the elements and physical and chemical changes to the skin as a result of aging. This can be improved by either stopping the loss of water from the skin, or by restoring lost moisture. VegeMoist is clinically proven to restore that lost hydration. Hydration is critical for a more youthful appearance because skin may become wrinkled at any age but, dry, lack lustre skin is a definite reflection of aging.
VegeMoist is the perfect addition to any products designed to improve the appearance of skin, due to it's protective activity, especially those geared toward dry, lackluster, damaged, and aging skin.
VegeMoist is also a great choice for hair care products where it will add hydration, due to it's affinity with water. Water will follow any osmolytes (sugars, betaine, amino acids), as they penetrate the hair shaft. Betaine is found in hair, naturally, and is responsible for it's sheen, and manageability. Dry hair is lacking in this vital component. Studies have shown that VegeMoist penetrates, and stays in the hair. A shampoo, containing 5% VegeMoist, used for six weeks, increased the hair content of Betaine by a minimum of 40%.
SPECIFICATIONS
white crystalized powder
odorless
water soluble

160g VegeMoist / 100g water
55g VegeMoist / 100g NatureSilk

store tightly closed and away from heat and moisture
shelf: 3yrs. when stored properly
GUIDELINES
added to water phase
compatible with all formulating ingredients
1.0 to10.0%

3.0% improves slip, spreadability and texture
7.0% improves smoothness of skin, improves gloss of product
APPLICATIONS
Skin Care

moisturizer
anti-irritant
collagen promotion
elasticity improvement
maintains hydration / prevents water loss
protection from oxidative stress
AHA activity enhancement

Hair Care

moisturizer
anti-irritant
detangler
shine enhancement
scalp protection
conditioner
foam enhancer in cleansers

Solubility Enhancer

improves allantoin solubility to avoid grit
improves salicylic acid solubility in water
INCI: Glycine Betaine (Beta vulgaris(Beet)) Sugar Extract
EcoCert, Kosher, NPA, NSF

http://www.ingredientstodiefor.com/item.php?item_id=894
CreamMaker FLUID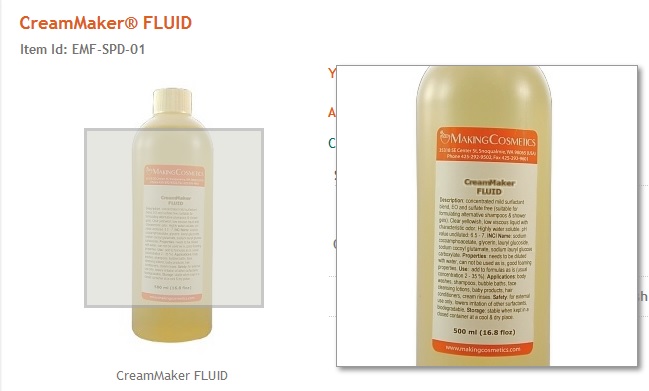 Olivem 1000