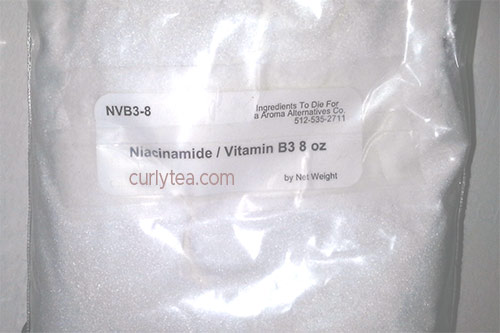 Are you formulating with Vitamin B3 like I am? Well, I have some information to share with you guys that I'll help you come up with good recipes.
I now use Niacinamide PC which is said to be a more gentle version of Niacinamide that causes less irritation and doesn't necessarily require a strict pH of 6 or above.
Niacinamide, or Vitamin B3, is an additive designed to help improve the quality of your skin. Formulators use it in anti-aging, suncreen, and acne skincare products. But if you're using it at home, you need to make sure you have a way to test the pH.
According to ingredientstodiefor.com, you must maintain a final pH between 3 and 7.5 if you want to use niacinamide in your products because you can turn niacinamide into nicotinic acid…and apparently that's a bad thing or else they wouldn't be telling us to avoid it.
Nicotinic acid is said to cause "intense… skin flushing"(vasodilation) which means your skin will turn red and look irritated even though it may not be. This may be one of the reason why they recommend to check that pH.
Who wants to apply a cream to their face that makes the skin turn red? They're more likely to believe they're having an allergic reaction to your product! So please keep this in mind when formulating with niacinamide.
Niacinamide, when used in the correct pH range, can act as an antioxidant, can "inhibit transepidermal water loss (TEWL)", and can "inhibit oxidative processes" in the skin. That just means with regular use it can help prevent things that cause the skin to get dull and to wrinkle.
Since this ingredient is very pH sensitive, I wouldn't suggest to use niacinamide with Sodium Lactate. Sodium lactate can increase the pH of your skin mix. On the other hand, using Vitamin C, glycolic acid or even Gluconolactone (preservative) can cause the pH to drop lower than intended.
Just…. make sure you have those pH strips on hand. Test it right after you finish making it. Test it again the next day just to make sure the pH hasn't drifted below the desired level.
Source Mat.:
http://www.ingredientstodiefor.com/item/Niacinamide_Vitamin_B3/635
https://www.futurederm.com/spotlight-on-vitamin-b3-niacinamide-and-nicotinic-acid/
Discuss below or in the new forum!