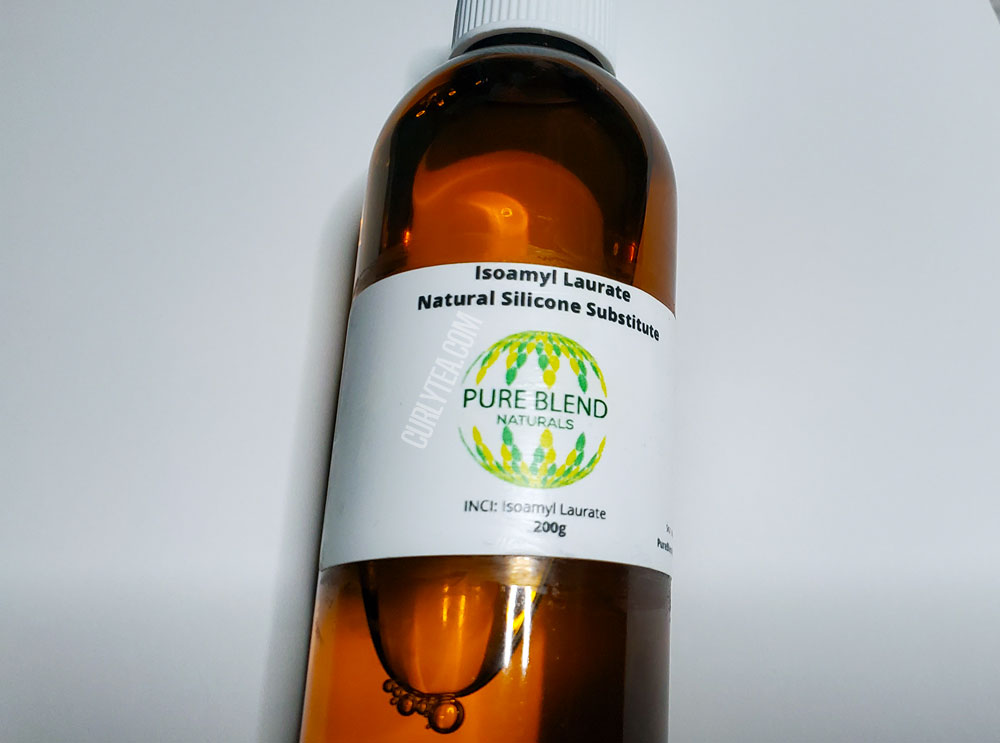 Isoamyl laurate
| | |
| --- | --- |
| INCI | Isoamyl laurate |
| WHAT | Emollient ester |
| pH RANGE | 4.5 – 7 |
| USAGE RATE | Hair 0.1% – 2%; Skin 0.5% – 20% |
| SPECIAL | There's a minimal amount of hydrolysis that can happen if the pH of a formula is too low, which presents as a "distinct odor" from the formation of "isoamyl alcohol". The odor can be covered by the use of fragrance. |
Isoamyl laurate (IL) is a low-viscosity, high performing ester produced in a sustainable way to make a product that feels smooth on the skin. It has "excellent wetting properties" for pigments, can be used in hair conditioners, has antistatic properties and can help improve the quality of foam in cleansing formulas.
Isoamyl laurate, aka Dermofeel Sensolv, is a silicone alternative for formulators who don't want to use traditional silicone in their stuff.
TIP: Make sure you get the Dermofeel Sensolv Isoamyl Laurate version. There's another version out there called EcoSilk which contains Isoamyl laurate + Isoamyl cocoate. Some say the Demofeel Selsolv version (100% Isoamyl Laurate) is superior to that other version. Make sure you check the INCI.
It doesn't feel sticky or draggy on the skin while applying. I can confirm that it improves the spreadability of some formulas. I can feel a difference when I use a noticeable amount of IL in a skin cream vs when I don't .
So far (and I'm still testing), I think about 6% on the skin is nice, especially when used in conjunction with another great-feeling ingredient: Pentylene Glycol. I used Isoamyl Laurate at 6% in one of the Chamomile Body Butter Misadventures formulas and it turned out to be the best version I've made as of this writing.
IL is known as a silicone substitute. Silicone substitutes don't fully replicate all of the properties of silicones, but depending on what you're looking for, they can get slightly closer than not using any at all.
Become A Member
Join today to get all of the recipes and formulas!
If you've been paying attention here at curlytea.com, I've use a lot of esters meant to replace the feel and purpose of silicones. Some of the main ones are C12-15 Alkyl Benzoate, NatraSil (Hydrogenated Ethylhexyl Olivate, Hydrogenated Olive Oil Unsaponifiables), C13-15 Alkane, Ethylhexyl Olivate and Ethylhexyl Palmitate.
This was before coming to the realization that some silicones actually work better, on my hair in particular, and aren't nearly as scary or awful as we were believed years ago.
The aforementioned silicone alternatives have different properties and various polarities, so some feel even better on the skin than others. Some feel better in combination, other's may actually feel worse in combination. Also, some are more comedogenic than others.
For example, according to nativessentials.com and skincarelab.org, the comedogenicity rating of Isoamyl Laurate is 1-2. (2)(3) That means it has a very low chance of clogging pores but should be fine for most people.
By contrast, Ethylhexyl Palmitate has a comedogenic rating of 4, according to skincarelab.org, meaning it's highly likely to clog pores. (3)
TIP: Natural oils and butters like Coconut, Cupuacu, Cocoa, Palm and Wheat Germ are all high on the comedogenicity scale as well. Save the Ethylhexyl Palmitate, Coconut oil and all those great butters for body, hair and foot care formulations.
So far I've been able to use Isoamyl laurate alone for a really good skin feel. I've only tested it in combination with Natrasil, which is Hydrogenated Ethylhexyl Olivate, Hydrogenated Olive Oil Unsaponifiables. I saw a few new bumps the day after using the combo, something I haven't yet experienced when Isoamyl Laurate is the sole ester (no other oils either).
In addition, I've read something about the usage of IL in cleansing formulas. According to the literature, adding 0.5% – 1% Isoamyl Laurate can improve the creaminess of the lather. Be careful not to go over that amount because cleansing formulas are sensitive to oils and Isoamyl laurate, in particular, can decrease viscosity.
Isoamyl laurate has a lot of positive characteristics. But why is it so hard to find in the U.S.? From what I can find, the only U.S based supplier carrying it formulatorsampleshop.com.
I placed an order in February which took the better part of a month to receive. Their normal processing time is 5-7 business days. I guess I got caught in the post-holiday backlog period? I don't know.
I ordered from pureblendnaturals.com out of Canada because I didn't think I ordered enough from FSS. The pureblendnaturals.com order was placed a week AFTER I placed the FSS order and it still arrived before the FSS order. Go figure. But I digress.
To summarize, if you can get your hands on Isoamyl laurate please try it. And try it in a sufficient amount. On dry skin, I'd start with a slightly higher amount than the lowest recommended usage rate.
For haircare, I've read that a good percentage is 2%. At 2% it slightly improves the feel of the leave-in conditioners I've made using it so far. It really shines when creating oil blends. It makes the oil blend feel great.
Related
1 azeliscanada.com – Isoamyl Laurate
2 nativessentials.com – Comedogenic Ingredients
3 skincarelab.org – Isoamyl Laurate