Hello curlyteas! Welcome to the brand new forum.

Ingredients List: Salon Pro Exclusives Twin Olive Maximum Hold Gel
Topic starter
09/07/2018 6:18 pm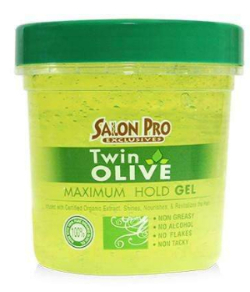 A couple of your fellow curlyteas asked me earlier if I'd ever used Salon Pro Exclusives Twin Olive Maximum Hold Gel (they were looking for an alternative to EcoStyler gels). One of them asked if I had the ingredients list because they couldn't find it.  Well, I finally found the list and I'm just going to post it for those who may have had trouble at first too.
Ingredients for Salon Pro Exclusives Twin Olive Maximum Hold Gel
Aqua (Water), Polysorbate 20, Carbomer, Aminomethyl Propanol, Glycerin, PVP, Polyaminopropyl Biguanide, Phenoxyethanol, Tocopheryl Acetate (Vitamin E), Olea Europaea (Olive) Fruit Oil, Aloe Barbadensis Leaf Juice, Panthenol, Citric Acid, Tetrasodium EDTA, VP/VA Copolymer, Polyacrylic Acid, Potassium Sorbate, Sodium Benzoate, Methoxycinnamidopropyl Hydroxysultaine, Propylparaben, Methylparaben, Blue No. 1 Aluminum Lake (CI 42090), Acid Yellow #23 (CI 19140), Fragrance (Parfum), Benzyl Benzoate, Benzyl Alcohol, Linalool.
Just skimming through the ingredients list, here's some things I noticed.
Polyaminopropyl Biguanide - a disinfectant and preservative
Polysorbate 20 - probably used as a solubilizer and emulsifier
Carbomer - standard gelling agent
Aminomethyl Propanol - often used to adjust the pH
PVP (Polyvinylpyrrolidone) - film forming polymer; gives it "hold"
Methoxycinnamidopropyl Hydroxysultaine - Hair conditioning agent; UV light absorber
Polyacrylate Acid - film former; emulsion stabilizer; viscosity (thickness) builder
I also noticed there's more carbomer, preservative, and Vitamin E in this gel than Olive oil. Carbomer is usually used at 0.1-0.5%. So... um... yeah. Unless they're using a ton of carbomer in this mix, it's quite possible that not a lot of olive oil is in this gel.
I noticed it's not paraben free. There's Propylparaben and Methylparaben in it.  By the way, Propylparaben has a 7 ("high hazard") on the EWG.org scale. Methylparaben gets a 4. These ingredients are used as preservatives, but some companies are taking them out because they may cause endocrine disruption.
This is not the best ingredients list I've ever seen (by far).  But you may want to test how it works in your hair.
In case you wanted to know, my store-bought gel of choice is the Wet Line Xtreme gel (with the lime green top). It is not a natural gel either.
Ingredients list for Wet Line Xtreme Gel
Water, Carbomer, Triethanolamine, Polyacrylate Acid, Glycerin, Fragrance, Phenylcarbinol, Methylchloroisothiazolinone, Methylisothiazolinone, Panthenol, Aloe Vera Extract, Tetrasodium EDTA, Colorant FD&C Violet 2.
I hope you've found this overview helpful on your journey for an Ecostyler alternative. 😀
Source Mat:
https://www.makingcosmetics.com/Carbomer-940_p_305.html
https://www.makingcosmetics.com/HairFix-Powder_p_1128.html
https://www.ewg.org/skindeep/ingredient/705335/PROPYLPARABEN/#.Wz7EzLjauHs
https://www.ewg.org/skindeep/ingredient/720621/METHOXYCINNAMIDOPROPYL_HYDROXYSULTAINE/#.Wz7F7rjauHs
https://www.ewg.org/skindeep/ingredient/703937/METHYLPARABEN/#.Wz7F-7jauHt
https://www.epa.gov/endocrine-disruption/what-endocrine-disruption