[Review] Palmer's Coconut Oil Conditioning Shampoo (Sulfate-free)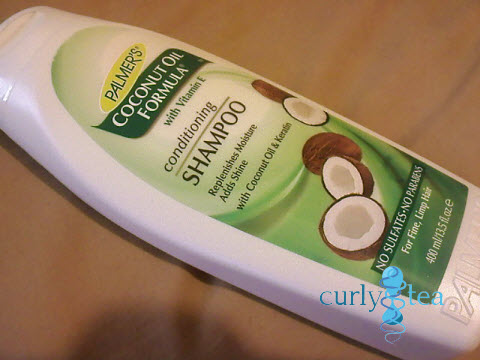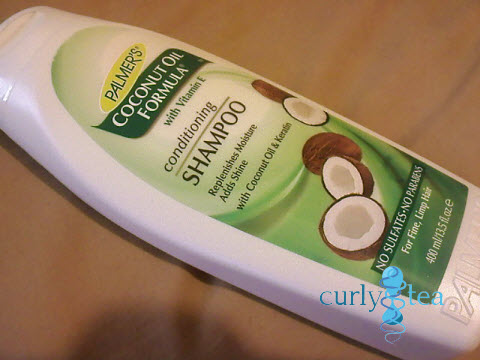 Being a DIYer, my standards are super high when it comes to trying out new products on my hair. So, I cannot stay silent when I take a chance on a store-bought product which really impresses me and works well with my naturally coily hair.
I've been using Palmer's Coconut Oil Formula Conditioning Shampoo over the course of a few months and it is one of the better off-the-shelf (non-homemade) shampoos I have used.
I actually bought this as a backup to my African Black soap, which I was about to run out of. However, I think I like Palmer's slightly better because I don't necessarily have to use an Apple Cider Vinegar rinse afterward if I don't want to.
This version of Palmer's Coconut Shampoo has "NO SULFATES, NO PARABENS", as the label on the front clearly tells you.
Ingredients:
Water (Aqua), Sodium C14 16 Olefin Sulfonate, Cocamidopropyl Betaine, Glycol Stearate, Cocamide DEA, Sodium Chloride, PEG 120 Methyl Glucose Dioleate, Cocos Nucifera (Coconut) Oil, Hydrolyzed Keratin, Tocopheryl Acetate, Fragrance (Parfum), Polyquaternium 10, Tetrasodium EDTA, Phosphoric Acid, Phenoxyethanol, Methylisothiazolinone, Hydroxypropyl Methylcellulose, Coumarin
Look/Feel:
It has a super white pearly look, and a very soft, soapy feeling.
Smell:
Great smell! One of the best coconut scents I've smelled so far. Most of the other brands which use coconut fragrance usually use a super-fake coconut scent. Palmer's picked a great coconut milky fragrance which just smells great, instead of perfume-y or alcohol-y.
Result:
I was pleasantly surprised. This shampoo didn't strip my hair or make it feel like straw. My hair was clean, but felt good. Again I say, I was impressed because I don't normally use store bought shampoo.
Price:
Usually under $6 both online and in stores for 13.5oz
As always, you should try everything for yourself. My hair may be different from yours, so you'll have to try it yourself.