Oh yeah! I'm continuing to experiment with various versions of a chamomile based body butter. Let's continue the testing clownery with Version 13!
Version 13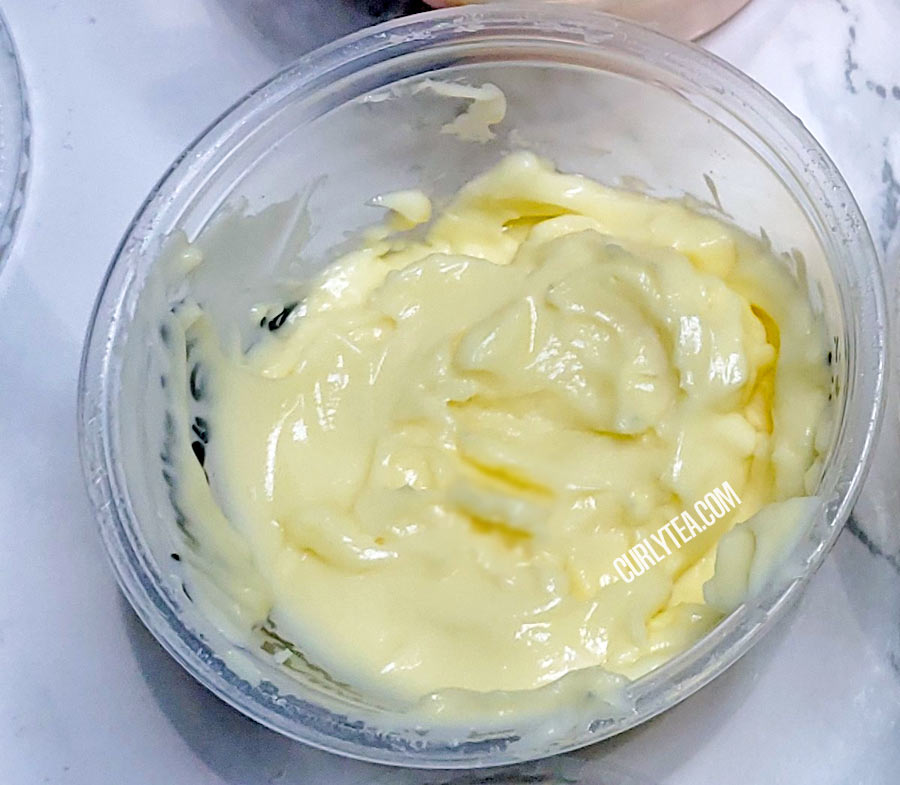 Chamomile Body Butter version 13
Up to this point, version 13 was the best of the Chamomile Butter recipes, even though I wasn't 100% pleased with it. This time I also chose the w/o emulsion route. In addition to the Glyceryl Stearate SE I also included an extremely good w/o emulsifier: Olivem 2090.
When Hallstar Beauty said "exceptional emulsifying performance" they meant that. I have yet to stomp this emulsifier. It's the best and most stable w/o emulsifier I've used thus far. There may be others that are better, but I can only judge by what I've used.
Olivem 2090 INCI: Polyglyceryl-4 Olivate/Polyricinoleate
On top of everything, Olivem 2090 is cold processable too! That means you can mix what you need to mix (as long as nothing else needs to be heated) at room temperature. However, if you want a thick, thick cream like consistency, adding Olivem 2090 to other thickeners is a must.
I'm not in the habit of ever using w/o emulsions by themselves, so of course I wanted to add another other to the formula.
Nope. Still didn't like the way it felt on the skin.
Here's Version 13 (the best one as of this writing):
PHASE A
52.1% distilled water
5.4% betaine
3.2% tara gum gel
PHASE B
6% glyceryl stearate se
2% behenyl alcohol
2% olivem 2090
2% moisture REG
10% mango butter
4% sunflower oil
6% natrasil
2% caprylic/capric triglycerides
PHASE C
2% propanediol
1% chamomile extract
1% buriti oil
0.2% vitamin E T-50
0.5% euxyl PE 9010
0.6% fragrance
Results
B+. It is the best of every version of this Chamomile Butter rabbit hole. It saw the addition of a specialty ingredient called Tara Gum Gel to the mix. Tara Gum gel is a liquidy gel said to have a "great skin-conditioning effect" and is meant to "capture and retain water into the skin for long-lasting hydration". Yeah, yeah. I'll see about that. lol
TIP Tara Gum gel is used in the Pumpkin Seed Curry Leaf Cream formula here at curlytea.com.
In addition to the Tara Gum gel, the Moisture REG makes an appearance. I saved the propanediol for the Cool Down phase in an attempt to ensure it wouldn't end up starchy-looking because of the Behenyl alcohol. It didn't.
There's two esters doing the duty of making the mix feel good on the skin:
Natrasil (Hydrogenated Ethylhexyl Olivate, Hydrogenated Olive Oil Unsaponifiables)
Caprylic/Capric Triglyceride
I wonder if it would feel even better if I only used Caprylic/Capric Triglyceride? Or maybe Formulator Sample Shop will get around to shipping my order and I can add Pentylene Glycol? Hum…yet another version? I'm tired. lol!
---
Version 14
Chamomile Body Butter version 14
This version only had minor changes from Version 13. I took way 2% of the Mango butter. I took away less than 2% of the Betaine humectant. I also took away 1% of the Glyceryl Stearate SE. Again it started out just the same as Version 13.
---
Version 15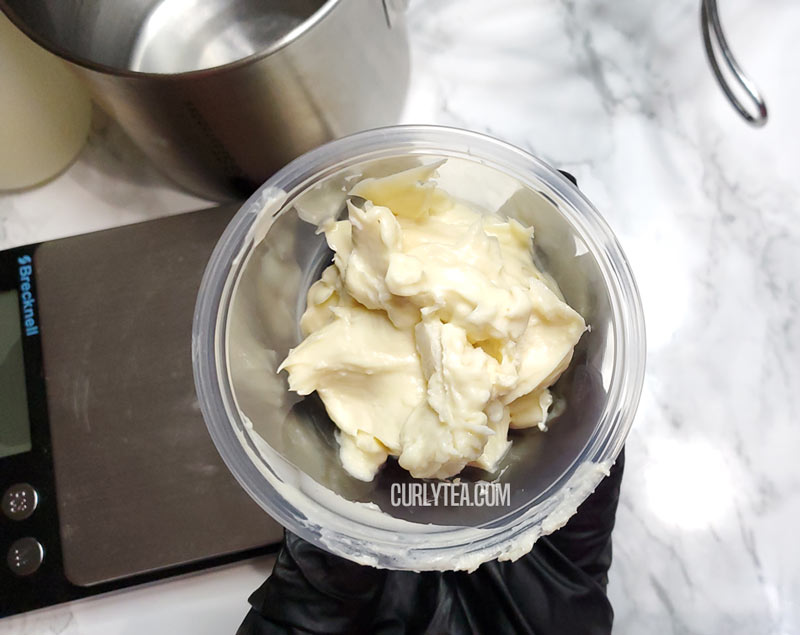 I was going to stop and move on but then I thought is there really no way for me to come up with a good oil-in-water, thick emulsified butter that I like? Surely it can't be that I can't come up with something I feel is top notch, right?
So it's off to the races AGAIN! I want to build up the thickness and I want this to be a cationic butter. This time I'm going to use a fatty alcohol cascade of thickeners! This could go real right…or real wrong!
Here's the formula:
PHASE A
32.1% distilled water
7% betaine
0.6% biochelate
2% propanediol
PHASE B
4% heliosoft
4% cetyl alcohol
3.6% behenyl alcohol
3% cetearyl alcohol
2% moisture REG
6% mango butter
4% shea oil
2% glyceryl oleate
PHASE C
20% distilled water
1% surfpro helia
PHASE D
1% chamomile extract
2% tara gum gel
1% buriti oil
4% caprylic/capric triglycerides
0.2% vitamin E T-50
0.5% euxyl pe 9010
Result
I like the in-jar viscosity (the way it looked). It's more akin to what I prefer in an emulsified butter. HOWEVER COMMA, it felt…pasty… during rub in. Only later does the skin have a moisturized feel. The thickener cascade seems to only work when additional high performing, feel-enhancing ingredients are also used.
In this recipe, there's only the butters, a small amount of tara gum gel and caprylic/capric triglyceride. There are no high level, 'wetting' esters in this formula.
In addition — which is something I should've paid attention to — Moisture REG itself contains cetyl stearate, cetyl alcohol, and stearic acid. I didn't factor that into how much of each separate fatty alcohol in the thickener cascade I used. Woops!
This may be decent if the thickener cascade was decreased significantly, or if the cetyl or cetearyl were completely left out.
2 Heliosoft
Have we finally reached the end of the chamomile body butter clownery?! Spoiler alert: 🤡
Stay tuned for Part 5 of the Chamomile Body Butter Misadventures