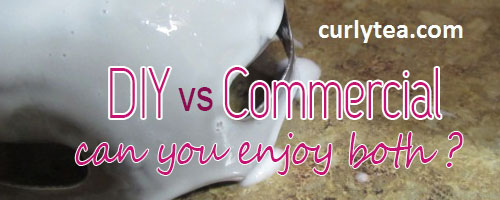 Does being into DIY mean you can't enjoy store-bought products?  Of course not!  I was speaking with a lady via email about creating DIY mixes recently.  She joked that she felt kinda guilty about taking advantage of a BOGO sale on Shea Moisture products because she likes to make her own mixes. LOL!
This raised an interesting topic in that I wonder if people feel like they have to be anti-store-bought products simply because they like to create their own haircare.
Commercial products give you a basis for starting out on your journey of creating your own products.  Because most people have used commercial products for most of their lives, it provides invaluable information about what works well for them and what doesn't.
Topic 1: Does being into DIY doesn't mean you can't enjoy store-bought products?
Topic 2: The Problem with Natural Hair On TV
Through trial and error, people find out which conditioners work well.  Then, they check out the ingredients and try to figure out which ingredients may be causing those great results.  And just like that, they have a foundation on which to begin their journey.
If the ingredients list on one of your holy grail conditioners begins with Aloe Vera Juice, that's one ingredient you can incorporate into your DIY recipe.
Other ingredients — like for example shea butter, olive oil and honey — may also appear on that list.  Now you've got a few core ingredients for which to create a conditioner. Thus, you can figure out a DIY recipe based on the performance of a commercial product you bought.
Conversely, you can figure out what your hair DOESN'T respond well to by using store-bought products as well.  If you've used products containing hydrolyzed proteins, and your hair feels like straw for days afterwards, you could draw the conclusion you shouldn't include hydrolyzed proteins in your DIY recipes.
In addition, using store-bought products gives you something to aspired to create.  If you've used an incredible product for your hair, you can try to get as close as possible to that recipe when you're making something for yourself.
It could be treacherous (haha!) trying to dupe a commercial product though. It could also be a total waste of your time and a waste of your ingredients.
Having good store-bought products at the ready also provides a nice backup just in case you run out of your DIY mixes and need to use something quickly.
It comes in handy if, for example, it takes half an hour to get your DIY shea butter mix exactly how you like it — with your preferred consistency — and you just don't have time.
Commercial products also come in handy if you've run out of an ingredient routinely used for your favorite DIY mixes.  For example, if you need to reorder high quality shea butter, it's good to have a backup product on hand until you can make more of your favorite mix.
So don't feel like you have to turn your nose up at all commercial products just because you mostly make your own haircare products.  If you have an opportunity to test out something that looks good, do that.
It's okay NOT to feel guilty because you took advantage of a BOGO sale.  It's okay NOT to feel guilty because you like a product from a small business.  It's okay NOT to feel guilty because you can't make a good cowash to save your life and you have to buy one! LOL!
How do you ladies feel about this issue?  Do you think people who DIY should stop using commercial products?  Leave a comment below.
========
MUSIC
========
artist: Jahzzar
song: Room With a View
https://freemusicarchive.org/music/Jahzzar/4_naked_songs_4_autumn_rainy_days/Room_with_a_view
http://creativecommons.org/licenses/by-sa/3.0/
artist: Jahzzar
song: sketch (vlad)
https://freemusicarchive.org/music/Jahzzar/Sketches/sketch_vlad_1616
http://creativecommons.org/licenses/by-sa/3.0/