Product Review: Soultanicals Afrotastic Curl Elastic Deep Conditioning Treat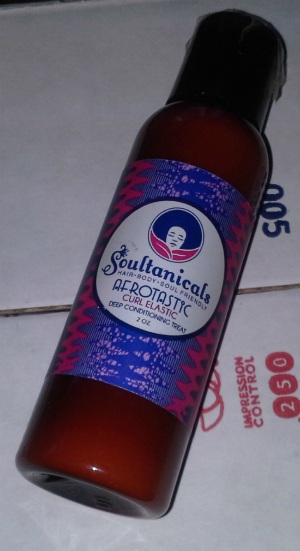 What?
Soultanicals Afrotastic Curl Elastic Deep Conditioning Treat
INGREDIENT: Distilled Water Botanically Infused with Marshmallow, Rosemary, Burdock, Amla, Chamomile, Thyme, Sage & Coltsfoot, Organic Aloe Juice, Behentrimonium Methosulfate, Cetyl Alcohol, Vegetable Glycerine, Organic Olive Oil, Avocado Oil, Hydrolyzed Jojoba Protein, Guar Gum, Sorbitol, Pro Vitamin B5, Soy Lechitin, Ximenia Oil, Shea Butter, Vitamin E, Potassium Sorbate, Leuconostoc/Radish Root Ferment Filtrate, Natural, Fragrant Oil Blends, an extra slip of soulistic flava & LOVE!
SHORT AND SWEET
Suuuuuuper soft hair while the product is on the hair.  Great detangler for wet hair
SMELL
To my nose, it has a fruity or sweet ripe fruit type of scent.  Its nice soft, but noticeable.
HOW IT WORKED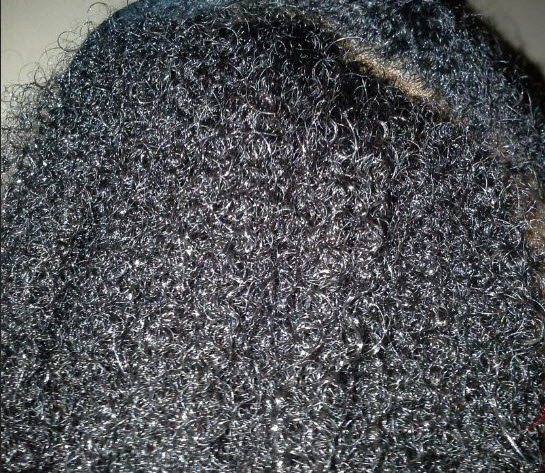 With the product in my wiry 4B and SUPER SOFT hair
ON WET HAIR
Soultanicals Afrotastic Curl Elastic is a deep conditioner which is to be used on wet hair.  It both softened and helped detangle my wet hair.   I was a little shocked at how soft my hair was when I had the product on.
Even my hands were soft as I was applying it to my hair.  I kept looking at the ingredients to figure out which one (or which combo) could have caused it to be buttery soft.
This stood out to me because my hair is normally not super soft when its wet.  Its just not.  I've chalked it up to the fact that we have hard water here, so I don't have uber softness when wet.
With that said, my hair was not as soft after I washed the deep conditioner off.  Again, I chalk that up to the combination of hard water and me only leaving it on for 15 minutes. Woops! (I normally deep condition much longer, but something came up).
WHAT'S IN IT
This deep conditioner has some of the best ingredients I've seen.  Marshmallow Root, Rosemary, Burdock root, Amla, Thyme, Sage, Chamomile, Provitamin B5, Coltsfoot and Aloe Vera are the herbs doing the strengthening and providing the vitamins.
In addition, the emollients our hair loves — Avocado oil, Olive oil, Shea Butter and glycerin — help to seal in moisture and impart manageability.
Highlighted in this mix is Ximenia oil.  Ximenia seed oil is like 92% unsaturated fatty acids which helps with restructuring and repairing. It also aids in conditioning and softening the hair.   Its also used to treat dry skin.  (Maybe that why my hands were so soft?)
The conditioning and emulsifying properties of BTMS are, of course, well known to all of you who read this website.  Its one of my holy grail ingredients.
Protein helps to strengthen the hair and this deep condish has Hydrolyzed Jojoba Protein, which penetrates the hair shaft.
Does it have humectants? Yes.  The most obvious ones are Sorbitol and Vegetable oil.
Adding slip to the party is one of my favs: Guar gum. Guar gum can be tricky to incorporate into a mix, but when you get it right, it adds a lovely amount of slip which helps to detangle super curly hair.
AND IF THAT WASN'T ENOUGH, the girl uses an ECOCERT approved spreservative: Leuconostoc/Radish Root Ferment Filtrate
SUMMARY
# Makes my hair suuuuuper soft while its on
# I'm about 2 minutes from also using it as a hand lotion (wow)
# Great, natural ingredients
(GIVEAWAY of KNOT SAUCE COMING! EEE!)