First Impressions: Beija-Flor Naturals Goodies!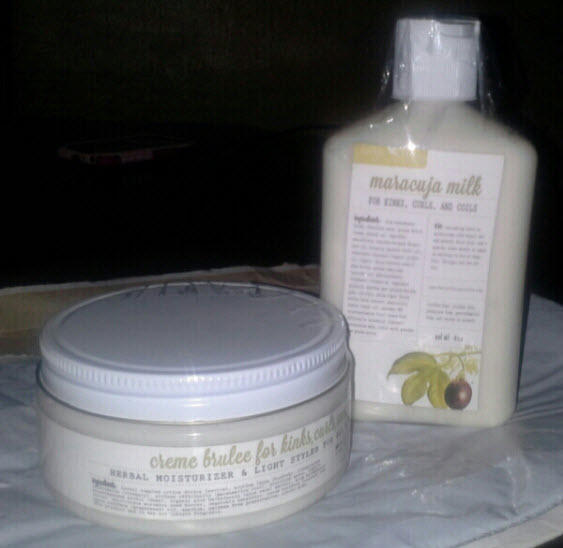 I just received two products from Beija-Flor Naturals' queen mixtress, Stevonne, from their line of Vegan hair and body care products!
Beija-Flor Naturals is one of the 'no-crap' companies which I tend to gravitate towards because their products contain natural based, high quality ingredients, some of which I love to use in my own DIY mixes.
First Impressions
Full sized products! Awesome! She sent full size products.
Just a little side tip to our subscribers: I will forever recommend that if you start your own business and you want people to review products, please send out a full size product(s) so the reviewer will be able to try it over time — and more than once — to give a more accurate review.  It builds loyalty and appreciation for your product(s).
# Maracuja Milk for Kinks Curls and Coils
The Maracuja Milk for Kinks Curls and Coils is a brand new product chock full of hair loving ingredients.  Yall know how I am about ingredients!  This is a leave in conditioner with Passion Fruit oil, Brazil nut oil, Aloe vera, Organic Jojoba and more great ingredients.  It even has Black Willow Bark and Neem oil.  (Yay! Gotta get those ingredients) More on the ingredients in the full review.
1. Its a creamy leave it. Mine is not thin like milk (for those who may be put off the by the name) Its thick but not thick like a butter.
2. Has a nice soft scent
Full review coming…
# Creme Brulee for Kinks Curls and Coils
The Creme Brulee is listed as an herbal moisturizer and light styler for all hair types.  Again, another product with great ingredients. It includes an herbal blend of Nettle, Burdock, Rosemary, Marshmallow Root along with Organic Shea and Murumuru butters.  (More on the ingredients in the full review.)
1. Its super creamy and feels more substantial on the hair
2. The Creme Brulee scent smells like a pastry, cake-y smell with hints of vanilla buttercream (to my nose), hint of almond (to my nose), and a tiny hint of spice somewhere in the background.  Its a good scent for those who love those soft pastry, bakery scents without them being overpowering.
Full review coming…
I'm going to see how the products work in my hair and use them more than once on wet, damp and dry hair to see how well they respond to my sometimes-finicky curls.
To get the products and review them yourself, go over to Beija-Flor Naturals now:
http://www.beijaflornaturals.com
http://www.beijaflores.etsy.com
http://www.facebook.com/beijaflornaturals
http://www.pinterest.com/CaliBeijaFlor
http://www.twitter.com/CaliBeijaFlor