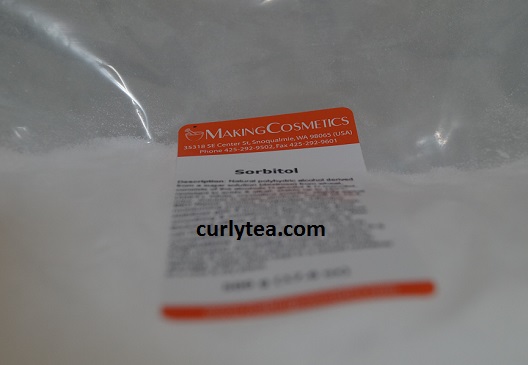 Sorbitol is used as a humectant and is derived from a sugar solution called dextrose which originates from wheat.  It consists of D-mannitol and D-glucitol.  It's supposed to be very easy to use and comes in powder form.
Sorbitol is said to stabilize gels and help with keeping them clear.  On top of that, it's supposed to add conditioning and smoothing properties to the recipe.  It also helps to prevent moisture loss, according to the information online.
I'll confess right now that it's not my most favorite humectant.
According to the datasheet provided by MakingCosmetics.com, sorbitol may also help to increase the viscosity and texture of a mix.
It can be used at up to 50% in your DIY recipes, according to the data.  But I think that my be for special products like softening gels or something.   I don't know! lol!  I wouldn't use it at 50% starting out though.
It's frequently used in gel products, too, to add some humectant properties to gels, aftershaves, lotions, shampoos and other personal care products.  You can use it the same way you use glycerin.
Because of it's sweet taste, the food grade version of sorbitol is also used in toothpastes and mouthwashes.
Sorbitol lasts for two years, according to the literature, so don't think you'll have to rush through it all before it expires.  As long as it's taken care of and kept in a dry cool place, the ingredient itself should last 2 years from the production (manufacturing) date.
Sorbitol is found in a lot of products, but I'll just list a few:
Joico Moisture Recovery Conditioner
Infusium 23 Leave-In Treatment
Avalon Organics Olive/Grape Seed Conditioner
Renpure Argan Oil Luxurious Conditioner
Renpure  Rosemary Mint Cleansing Conditioner
Andalou Naturals Argan and Sweet Orange Conditioner
Nothing But Intense Healing Mask
It's A 10 Miracle Moisture Conditioner
etc, etc, etc.