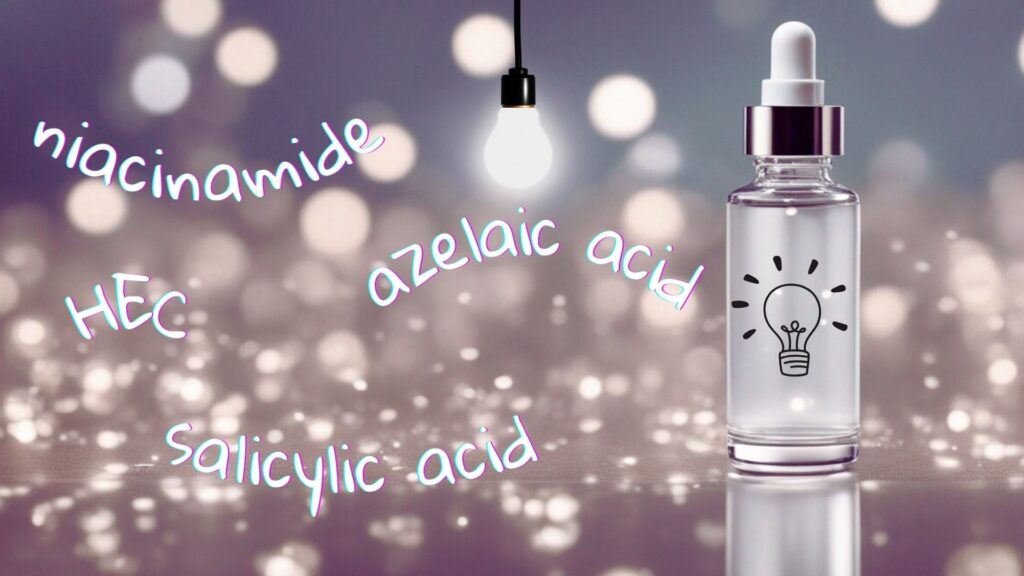 I got an email question about formulating with HEC (hydroxyethyl cellulose), salicylic acid, niacinamide and azelaic acid. Immediately I was hit with the memories of trying and failing to adequately dissolve regular salicylic acid. *shivers*. It's a finicky ingredient and y'all know how much I dislike working with finicky ingredients if there's a less problematic alternative.
My most important piece of advice was to try to find less problematic alternative versions of these ingredients. For example, a better alternative to regular salicylic acid powder is "Salicylic Acid Solution" (liquid) sold by makingcosmetics.com. An easier to use alternative to Azelaic acid is "Potassium Azeloyl Diglycinate" (liquid), which used to be sold by EssentialWholesale before they became…something else. A less harsh version of regular Niacinamide is "Niacinamide PC". I've experimented with all but the Salicylic Acid Solution.
The lady who emailed wanted to use Hydroxyethyl cellulose (HEC) but HEC can be tricky to work with depending the type of HEC you have. There are many versions of HEC on the market. I have the HEC 250 HHR version that goes directly into water and takes a long time to hydrate unless I use the pH trick.
But even then, the pH trick can cause issues with other ingredients if they must be dissolved into water. The pH trick revolves around raising the pH to 8-9 to force hydration and gelling, then lowering the pH back down to a usable level. You think salicylic acid likes a pH of 9? Not likely. So the pH trick is out.
There's a possibility Azelaic acid, niacinamide, and salicylic acid may cause issues with the viscosity of a serum over time. You'll want a good, non-problematic gelling system and possibly an emulsifying ingredient. If the serum is to remain clear, that's another limitation.
Here are the alternatives to HEC I came up with:
TRY: Sepimax Zen
Sepimax Zen is a great emulsifying polymer that offers some electrolyte resistance as well. It also works well at lower pHs. Not sure how it'll behave with Salicylic acid, but you should try it. What you'll do is:
Add 2 – 3% Sepimax Zen to the water first. No high shear mixing. Skip the stick blender.

Use some type of mechanical mixer (like a Norpro Mini Mixer or even a milk frother) to mix until most of the larger clumps are gone.

Let it sit for 10 minutes. Any clumps left should dissolve without issue or they should easily dissolve with further mixing.

In a separate vessel, add pentylene glycol (or propanediol), 15% water, niacinamide powder, and azelaic acid. You decide what your final percentages will be though. I'd probably use 3% Pentylene glycol (or 5% Propanediol).

Add your preservative. If the preservative is not water-soluble and you want the mix to remain as clear as possible, you will have to mix the preservative with some type of solubilizer like Polysorbate 20 or PEG-40 hydrogenated castor oil before adding it to the gel.

Sepimax Zen has emulsifying properties. So you can add any oil based preservative directly to the mix. However, it'll turn cloudy (or translucent).
It's not true that Sepimax Zen has to sit for 8 hours or overnight before it can form a gel. It can form a gel ALMOST immediately with a little patience and low-shear mixing.
TRY: Gelmaker Powder
Gelmaker Powder is a self-wetting polymer that's tolerant to electrolytes. But pH is extremely important here. You'll have to give the salicylic acid a longer time to work on the skin at a pH of 5 instead of the recommended pH of 3.5 or so. What you'll do is:
Sprinkle 2-3% of the powder into the water first. DON'T MIX. Let it sit and dissolve by itself. It shouldn't take more than 10 minutes. After all or most of the "white" is dissolved on its own, continue below.

Hand stir. No high shear mixing.

Adjust the pH upwards to pH 5 or 5.5. It should form a gel. I'm recommending to do it this way so you can be sure the gel has formed. Some ingredients interfere with the gelling process of some polymers. I'm also doing it this way so that you get to see if you like the viscosity of the gel at the percentage of Gelmaker Powder you used. For example, you may like it better at 2.5% than 2%, while 3% may be entirely too thick. Experimentation is key.

In a separate vessel, dissolve the azelaic acid and niacinamide powders into about 3% of Pentylene glycol OR 4-5% Propanediol. Either one should work, but Pentylene Glycol may be better.

Add the dissolved powders into the gel. Hand stir or mix with a Norpro mini mixer. No super high shear mixing should be necessary. Add the Salicylic Acid Solution to the gel. It'll probably lose viscosity. Don't panic. Re-adjust the pH back up to between 5 and 5.5. It should gel back up. That's a benefit of Gelmaker Powder.

Add your preservative. If the preservative is not water-soluble and you want the mix to remain as clear as possible, you will have to mix the preservative with some type of solubilizer like Polysorbate 20 or PEG-40 hydrogenated castor oil before adding it to the gel.
TRY: HEC
If I were experimenting with only the HEC, I'd try the overnight method instead of the pH trick.
Add HEC 250 HHR directly into water (HEC+water mix)

Hand stir a little.

In a separate vessel, combine 3% Pentylene Glycol (or 5% Propanediol), salicylic acid(SA), niacinamide(N) and azelaic acid(AZ).

Pour the Pentylene+SA,N,AZ mix into the HEC+water mix

Hand stir. High shear is of no use in this situation.

Let sit overnight. You can monitor it and stir it every 1-2 hours until bed time.

After 24 hours, check the consistency.

You may lose viscosity overtime so you have to monitor it.
Bottom line: Experimentation is key. Those active ingredients can be challenging to work with. And I always recommend to find the least problematic version of any challenging active. Otherwise, it could tire you out unless you hire an expensive certified cosmetic chemist. lol!
At the time of this writing, curlytea.com is NOT an affiliate of any of the companies whose links are listed above. I personally receive NO compensation if you purchase any item at their website. Actually, if they provide a space to leave notes during your checkout phase, give a shout out and let them know you got a recommendation from curlytea.com. curlytea.com is not currently sponsored by any supplier or manufacturer.