VegeMink™

VegeMink…developed to mimick the remarkable activity of Mink Oil by 'cloning' the unique fatty acid profile, responsible for it's nurturing activity, using 100% pure vegetable oils.
VegeMink, using a combination of vegetable oils to mimick human sebum, supplements the skins own healing mechanism, for vibrant healthy skin.
Our exclusive combination of Macadamia Nut and Seabuckthorne Berry Oils for their palmitic acid offering unrivaled emollience and restructuring activity, Tamanu Oil for it's calophyllic acid offering unsurpassed circulatory stimulation, anti-microbial, anti-inflammatory activity and skin healing, Olive Squalane for it's incredible refining activity and revitalized smooth skin, Rosemary Extract for it's rosmarinic acid offering proven free radical scavenging activity and skin protection.
Buy VegeMink
The result is a synergy of nature and science that will deliver all of the benefits of Mink Oil and it's ability to refine the texture, and condition, of skin without sacrificing a clean, cruelty free label……
VegeMink, a premium vegetable oil blend designed to absorb fully and completely within minutes deliverying softness, smoothness and the restoration of optimal function and healing for the natural glow of healthy skin while meeting the needs of today's educated consumer. You can have your cake and eat it too!
SPECIFICATIONS
| | |
| --- | --- |
| Appearance: | Light to Dark Green / Non-Viscous Liquid |
| Odor: | Characteristic / High Fatty / Nutty |
| Solubility: | Oil Soluble |
| Absorption: | Moderate / Complete |
| Storage: | Cool / Tightly Sealed / Protected from direct Heat, Light and Moisture |
| Shelf: | 36 Months / Properly Stored and Handled |
APPLICATIONS
scarred skin treatments
stretch mark treatment
damaged skin treatments

eczema, psoriasis, inflammatory conditions
hair and scalp massage

anti-aging skin care

eye creams
day care creams/ lotions
nightly repair creams/ lotions

after sun products
refining treatments

scrubs
cleansers
body oils / salves
hand and body creams / lotions
lip balms / creams
GUIDELINES
5.0 to 100%
added to the oil phase
INCI: Macadamia integrifolia (Macadamia) Nut Oil, Calophyllum inophyllum (Tamanu / Foraha) Nut Oil, Squalane (Olive), Hippophae rhamnoides (Seabuckthorne) Berry CO2 Extract, Rosmarinus officinalis (Rosemary) CO2 Extract
Source: http://www.ingredientstodiefor.com/item/VegeMink_/829/
CreamMaker FLUID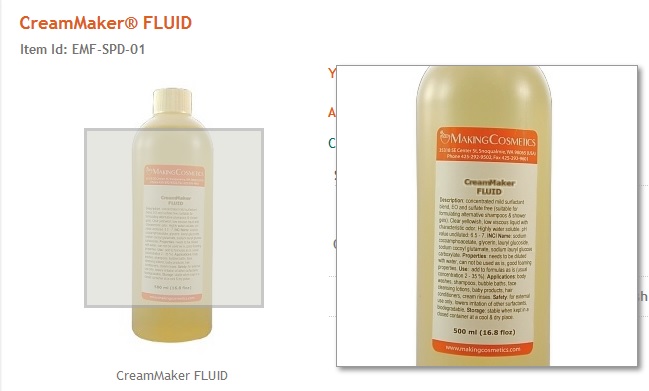 Olivem 1000