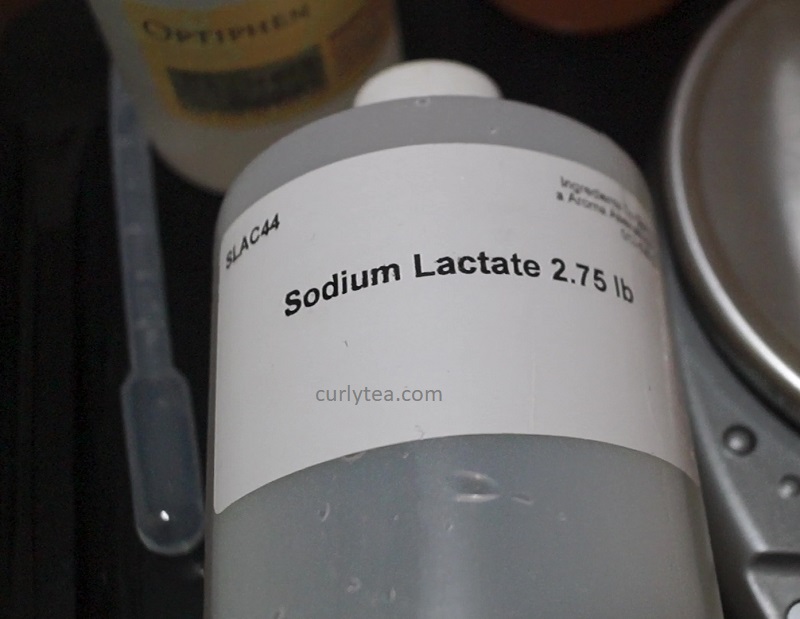 Sodium lactate is the sodium salt of lactic acid and is already a favorite among soap makers.   But did you know sodium lactate is a "natural moisturizing factor" component of skin?  Its a natural humectant added to lotions and creams as a less sticky alternative to glycerin.
It has the ability to hold more water than glycerin, sorbitol, and sodium PCA.  The only thing better at attracting water is hyaluronic acid.
According to online reports, the sodium of lactic acid have a higher level of inhibiting pathogen growth than the actual lactic acid itself, in food.
Sodium lactate is used to push off spoiling for as long as possible because it has the ability to extend the shelf life of meat and poultry! So imagine how good it would be to add this, along with your broad spectrum preservative, to help keep the creepy crawlers out of your DIY skin creams and lotions.
The sodium lactate I use is in liquid form which is its natural state.  Lotioncrafter.com offers it in powder form too.  But the powdered form is extremely hydroscopic (easily absorbs water from the air) so you'll have to make sure to keep it tightly secured.  I recommend using an airtight container.
Another thing being studied about sodium lactate is its ability to slightly lighten darker spots on the skin.  Some companies are starting to add it to skin toning creams and lotions.
TIP: The pH of sodium lactate liquid is 7.8 to 8.3.
Sodium lactate accelerates the action of Vitamin C when Vitamin C is being used to brighten dark spots (ingredientstodiefor.com)
You only need a small amount of sodium lactate for your DIY products.  The recommended usage rate is 0.5% to 5%.  Although, some reports say using sodium lactate at 3% and above can cause you to have some sun sensitivity.
If you want to make soap, adding sodium lactate will help to harden the bar and to prevent cracking when its dried.
Majestic Mountain Sage (thesage.com) recommends to add 1/2 ounce per every pound of soap you're making.
Sodium lactate is not on any of GoodGuide.com's toxic chemical list, of course.  They say it has not been detected in human tissue, nor does it have a mysterious data history where you can't tell the long term effects.
Its really a natural ingredient you should consider adding it to your DIY skincare products. Skip using it in any type of hair products. See how it feels on your skin and if it improves your DIY products.
Where to buy:
http://www.ingredientstodiefor.com/item/Sodium_Lactate/145
http://www.camdengrey.com/essential-oils/sodium-lactate.html
http://www.naturesgardencandles.com/candlemaking-soap-supplies/item/sodiumlac/-SODIUM-LACTATE—16-oz..html
http://www.lotioncrafter.com/sodium-lactate_powder.html (powder)
Related:
http://www.sodium-lactate.com/
http://www.makingcosmetics.com/Sodium-Lactate-p748.html
http://www.thesage.com/catalog/products/Sodium-Lactate.html
http://www.goodguide.com/ingredients/117236-sodium-lactate