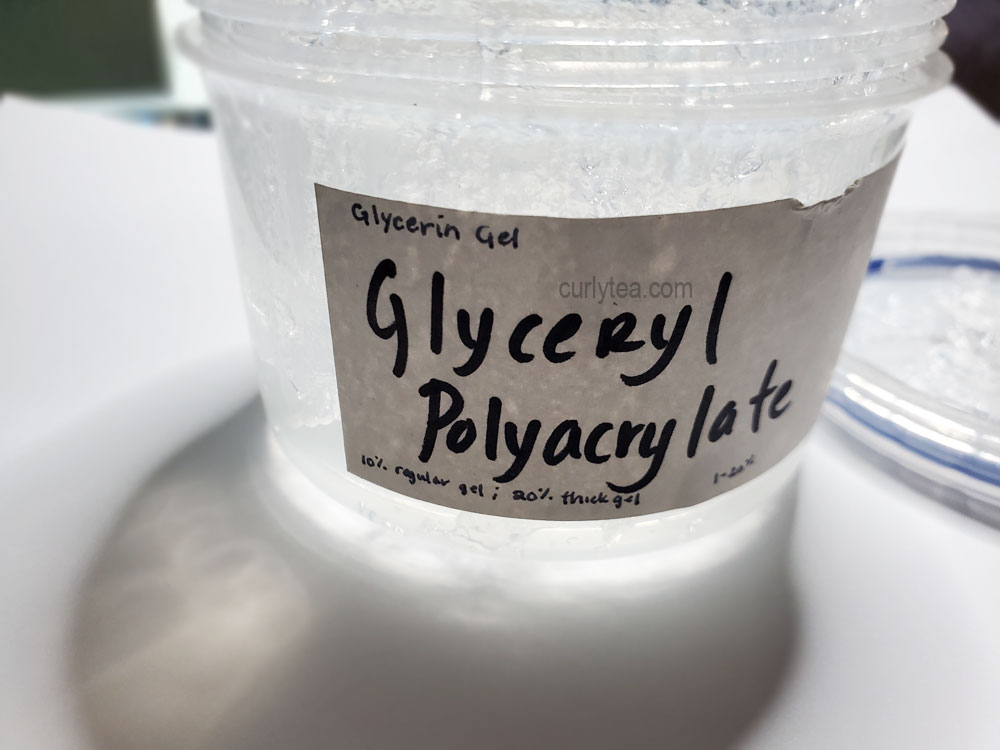 Glyceryl Polyacrylate
| | |
| --- | --- |
| INCI | Glycerin (and) Glyceryl Polyacrylate |
| WHAT | humectant; rheology modifier; gel building block |
| pH RANGE | 5 – 11 |
| USAGE RATE | 10% makes a clear gel; 20% makes a thick gel |
| SPECIAL | Heat tolerant; Helps bind a small amount of oil 1-2% (like fragrance oils)(3) |
Glyceryl polyacrylate is a water-soluble, rheology modifier that makes clear gels. Its made from glycerin which is excellent at providing moisture. It can be used to add a "wet" (moisturizing) feeling to products. As long as it's added to a formula with a pH of 5 – 11, it can increase the viscosity without the absolute need for neutralization.
Join us!
Join the community to gain access to all of the formulas and recipes now!
It doesn't have to be heated either. It can be a star ingredient for formulators who want to make cold-process serums, gels and cream gels without much manipulation. Moreover, it can be added, with very good stirring, during the Cool Down phase of an emulsion process.
If you want to use glyceryl polyacrylate as the main base of a gel or serum product, prepare for a very "wet" moisturizing feeling. A gel made with it (in the suggested usage rate) is non-sticky and breaks quickly. But it gives you a little playtime on the skin but doesn't leave a heavy, noticeable residue.
The Glyceryl Polyacrylate I purchased is from the Thailand company myskinrecipes.com. It has the same INCI as an ingredient called Hispagel 200. Keep in mind that having the same INCI means almost nothing because various versions of ingredients created by various manufacturers can have the same INCI but very different properties. But let's assume the brand name is Hispagel 200.
According to DeWolf, Hispagel 200 (Glycerin, Glyceryl Polyacrylate) can tolerate up to 50% ethanol(1). Again, I'm not sure if the version I have is the same. I don't intend to experiment with homemade antibacterial sanitizers. But if you're making sanitizers and are looking for a quick-breaking ingredient that combats stickiness, you may want to try this one.
myskinrecipes.com gives a very simple recipe for a Pitera Hydro Gel using glyceryl polyacrylate:
90% Pitera (Galactomyces Ferment Filtrate)
10% Glyceryl polyacrylate
That's it. I'm assuming the Galactomyces Ferment Filtrate is preserved. By the way, Galactomyces Ferment Filtrate is a main ingredient in SK-II facial treatment (2).
Glyceryl polyacrylate is found in a number of products and is used along side everything from carbomer and sodium acrylates copolymer to xanthan gum and cellulose gum.
Here's a small list of products you may be familiar with:
Pure + simple skin softening moisture lotion
Nature Republic Soothing & Moisture Aloe Vera 92% Soothing Gel
Korres Greek Yoghurt Nourishing Probiotic Gel-Cream
IS ClincalActive Serum

Related